Why Doctors need SEO in 2022?
Marketing dictates the growth of business. Any business, brand or service can  seam in the sky of profits and reputes , relentlessly, only through marketing.  In this new age, conventional marketing gave way to digital marketing. Digital marketing comprises of website production, SEO, Content Creation, Social Media Marketing etc. Almost all businesses and brands succumb to marketing, irrespective of their nature. On the contrary , the one industry or rather service, which lags behind in marketing, is the healthcare industry. Therefore, Search Engine Optimization(SEO) for Doctors, is truly the need of this digital era.
Digital Marketing is a necessity for Health care Industry
 Digital marketing opens up a vista of marketing strategies and trends to synchronize the healthcare service with the needy patients and clients. But, if we check the marketing strategies of many healthcare organizations, we will be astonished to find it, too stingy. 
But the fact is that, to reach out and engage with  today's clients and patients, who have a high tech know-how, digital marketing is undoubtedly, a necessity for healthcare industry. 
Moreover 90% health care clients seek the help of online reviews, in the lookout of healthcare professionals or doctors which stamps the dire need for digital marketing.
Key aspects of Digital marketing in the Healthcare Industry
Designing a full fledged, responsive website 

Best SEO to make the website vibrant and viral  
A finely created and tuned in content 
Turning the website to Google friendly 
Including multimedia to thrust action 
Getting online practice access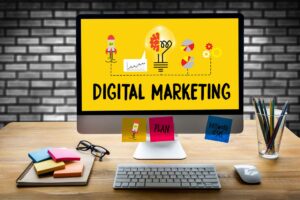 Designing a full fledged, responsive website 
 1. Patients need not cling to a clumsy website, that too for a long time. On the other hand, they need a quick, responsive one and can make appointments  easily. Hence, , there is the need for a well done website.
 This responsive website must adapt to the screen size and browser settings. Certainly, it must be at par with the  aspect ratio of the browser. Here, the page needs to be cleaner.  When the healthcare organizations manage an efficient website, new business strategies get focused, which in turn lead to  reach visibility and  conversions. This inevitably decreases expenditure and efforts.
Best SEO to make the website vibrant and viral  
Whatever be the website, the greatest strategy to get it reach the client ,is by Search Engine Optimization. In fact, a high competition exists in search traffic . If another healthcare organization has a more strategic SEO than ours, it will appear high in the organic search results than ours. Such an SEO strategy increases the overall web presence. In order to search your organization, we need  words relating to patients, physicians and health care professionals . 
Another aspect of SEO is adding an FAQ section in the website. In the answer part of such questions , we can include contact numbers of physicians, doctors or health care professionals.
 In the FAQs, if we ask the symptoms of a particular disease  , the information furnished, will give a chance of ranking high in Google's Featured Snippet Section , which is often the first search result . Choosing a relevant keyword for each website page as well as social blog post or other content, is of utmost importance. 
A finely created and tuned in Content
Without the right content, a successful SEO strategy will be difficult to build. The content must be lucid, self explanatory and touch the various aspects of healthcare industry. Moreover, the content need to be updated on and often, to be successful. 
 The right content will boost up the search engine rankings, driving new traffic to the website. Additionally, it will encourage patients to visit our hospital or clinic for their healthcare needs. The content created, certainly, should have a personalized touch. The website content, along with blogs, newsletters etc. need to delight the readers, along with the information. Furthermore, we need to discover new ways of content, other than blogs and newsletters. 
Email updates are also essential for Digital Marketing. With the help of them, we can remind the clients about the new blogs and letters attached in the website. We can also make the clients, cling to the offers referred to in the content. Attaching a chat box, which offers a 24*7 answers to the questions asked, is of great worth. Above all,  an updated content is necessary, optimized with relevant keywords.
If you need help growing your business, brand or service, check out our Digital Marketing company, Iris Q Technologies

Google friendly Website by doing SEO for Doctors
‌ New age tech based people, seek and try to diagnose their health care queries, through Google . Google gets a billion questions like these. By getting these types of queries, even in incomplete format, Google suggest answers, actually making a great hindrance to health care industries to soar. But, by optimizing our content and making it Google friendly, that's by making perfect website and SEO for doctors or healthcare industry, we can overcome the situation.
 For it, we need to create a Google business profile via Google My Business. Clients get a snapshot of our business through these profiles . Vital information, regarding our industry like location, price range, website etc. can be incorporated in a snapshot. In addition to it, online reviews can also help  to find our clients, what they need from us.  After setting the profile, we include keywords, so as to rank the website high in search queries.
Including Multimedia to thrust action
Videos and movies have a great impact in the viewers psyche. If you have a video related to healthcare industry, we can include it in the website. Conversational videos regarding, say, about a particular disease and its cure, is of great help to clients and they love it. Videos detailing, how to set up an appointment, too have a great impact on the viewers. Professional touch, like shooting outdoors will help to reach out to more clientele. Health care professionals can upload these videos in their website or even in YouTube. 
Getting Online Practice access
‌Practice of doctors gets accessible, online, not only through a website or Google business profile, but even through doctor's Facebook profile. Indeed, the Facebook account serves in finding new patients, asking key questions, posting new ads, videos or blog posts. Moreover, we can include superb graphics  in social media posts. Facebook, being the most widely used social media platform, over half of its users check the websites many times a day, which will be helpful in finding new patients.
 In fact, through the website and social media platforms, we can even set up an online consultation for the needy. Like these, new trends are popping up in the healthcare industry, which are coming to stay forever. The health care service needs to synchronize with these and try to roll out. In fact, keep vigilant over the changes and invent new ideas, which will cater the needs of patient clientele
Iris Q Technologies provides the best SEO services for Doctors
We are highly experienced in providing Digital Marketing and SEO  for doctors and health care industry, with high proficiency and cost effectivity. Please feel free to contact us for any digital marketing services.